Regenerative Medicine Market To Grow At A CAGR Of 11.27% By 2027, Due To Advancements In Cell Biology, Genomics Research, And Gene-Editing Technology | Grand View Research, Inc.
According to a new report published by Grand View Research, Recent advancements in biological therapies have resulted in a gradual shift in preference toward personalized medicinal strategies over the conventional treatment approach. This has resulted in rising R&D activities in the regenerative medicine arena for the development of novel regenerative therapies.
Regenerative Medicine Industry Overview
The global regenerative medicine market size was valued at USD 27.29 billion in 2020 and is expected to reach USD 57.08 billion by 2027, growing at a CAGR of 11.27% over the forecast period. The emergence of gene therapy coupled with the developments in stem cell and tissue engineering are expected to fuel the market growth. In addition, increasing regulatory approvals for advanced therapy medicinal products have propelled the market growth. The ongoing COVID-19 pandemic created lucrative opportunities for the operating players owing to the urgent need for the development of new therapies against SARS-COV-2. Several initiatives are being implemented in the cell and gene therapy manufacturing industry, including the T-cell therapy space.
For instance, based on the previous research insights, Singapore-based Duke-NUS medical school's emerging infectious diseases research program demonstrated the utility of these immunotherapies in treating patients with COVID-19 infection. The presence of several programs and continuous investments by government and private agencies to support R&D also accelerate the industry's progress. Like National Institutes of Health (NIH) supports the scientific research community through NIH Regenerative Medicine Program, NIH Stem Cell Libraries & Projects, NIH Stem Cell Unit, and others. Similarly, initiatives adopted by market players to raise finance for the R&D of regenerative medicine support the market progression.

Gather more insights about the market drivers, restrains and growth of the Global Regenerative Medicine market
In addition, companies are collaborating to strengthen their R&D capabilities to develop and commercialize innovative therapies to ensure their availability to their customers locally or worldwide. For instance, in July 2021, Pharming Group N.V. and Orchard Therapeutics collaborated for the development and commercialization of OTL-105, an investigational ex vivo autologous Hematopoietic Stem Cell (HSC) gene therapy for the treatment of Hereditary Angioedema (HAE).
Moreover, technological advancements in stem cell-based therapies have revolutionized the perspective of researchers toward regenerative medicine. Advances in stem cell therapy have accelerated the developments in regenerative medicine. For instance, haematogenic stem cells currently are being used to treat leukemia and blood disorders. Also, nanotechnology is a powerful tool for engineering stem cells and regenerative medicine. With the introduction of new technology, nanofabrication techniques can now allow researchers to develop nanofiber scaffolds.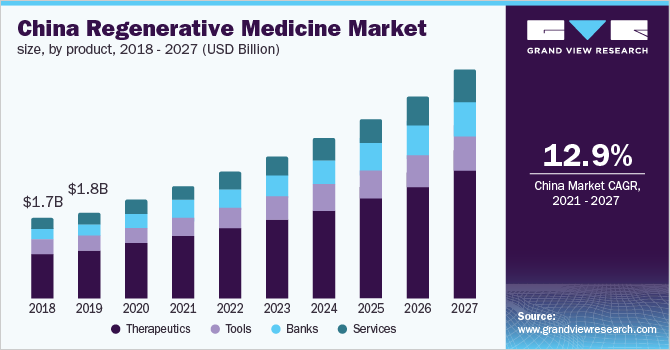 Regenerative Medicine Market Segmentation
Based on the Product Insights, the market is segmented into Therapeutics, Tools, Banks, and Services.
The therapeutics segment accounted for the maximum revenue share of more than 56% in 2020 and is anticipated to continue its dominance throughout the forecast period.
The stem cell &progenitor cell-based therapies segment is expected to register the fastest CAGR over the forecast years due to high investments in stem cell research coupled with redrafting in regulatory policies for their use in clinical applications.
Key vendors with specialized technology provide management, manufacturing, characterization, engineering, and quality control services along with other facilities for clinical trials and other research associated with the development of regenerative therapies.
Based on the Therapeutic Category Insights, the market is segmented into Dermatology, Musculoskeletal, Immunology & Inflammation, Oncology, Cardiovascular, Ophthalmology, and Others.
The application of regenerative therapies is maximum in the oncology segment, thus, it captured the largest revenue share of more than 31% revenue share in 2020.
The presence of a strong product portfolio coupled with increasing incidences of musculoskeletal disorders is anticipated to boost the revenue of the musculoskeletal segment.
Increased complexity of the wound healing process with severe diseases, such as diabetes and HIV, has encouraged R&D approaches in the dermatology segment.
Various novel approaches in developmental phases promote tissue engineering. This includes the use of biomaterials and drug delivery systems, which stimulate and control the immune system and influence cell replication.
Based on the Regenerative Medicine Regional Insights, the market is segmented into North America, Europe, Asia Pacific, Latin America, and Middle East & Africa.
North America dominated the global market in 2020with a revenue share of more than 45%. This is attributed to the presence of a significant number of key players in the U.S.
Asia Pacific is predicted to witness the fastest CAGR over the forecast period owing to the expansion of infrastructure and facilities to accelerate stem cell research in the emerging economies of the region.
Market Share Insights:
February 2020: Integra Lifesciences (US) launched AmnioExcel Plus Placental allograft membrane.
November 2019: Stryker Corporation (US) acquired Wright Medical (US) to strengthen its product portfolio.
Key Companies Profile:
Key companies invest heavily in the development of regenerative therapies to meet the demand for unmet clinical needs. The market is highly competitive as the companies are focusing on the introduction of therapies for oncology & age-related degenerative disorders.
Some of the prominent companies in the global regenerative medicine market are:
AstraZeneca plc
F. Hoffmann-La Roche Ltd.
Integra Lifesciences Corp.
Astellas Pharma, Inc.
Cook Biotech, Inc.
Bayer AG
Pfizer, Inc.
Merck KGaA
Abbott
Vericel Corp.
Novartis AG
GlaxoSmithKline (GSK)
Baxter International, Inc.
Boehringer Ingelheim
Amgen Inc.
Cesca Therapeutics, Inc.
U.S. Stem Cell, Inc.
Bristol-Myers Squibb
Eli Lilly and Company
NuVasive, Inc.
Organogenesis, Inc.
MiMedx Group, Inc.
Takara Bio, Inc.
Osiris Therapeutics, Inc.
Corline Biomedical AB
Order a free sample PDF of the Regenerative Medicine Market Intelligence Study, published by Grand View Research.
About Grand View Research
Grand View Research is a full-time market research and consulting company registered in San Francisco, California. The company fully offers market reports, both customized and syndicates, based on intense data analysis. It also offers consulting services to business communities and academic institutions and helps them understand the global and business scenario to a significant extent. The company operates across multitude of domains such as Chemicals, Materials, Food and Beverages, Consumer Goods, Healthcare, and Information Technology to offer consulting services.
Web: https://www.grandviewresearch.com
Media Contact
Company Name: Grand View Research, Inc.
Contact Person: Sherry James, Corporate Sales Specialist – U.S.A.
Email: Send Email
Phone: 1888202951
Address:Grand View Research, Inc. 201 Spear Street 1100 San Francisco, CA 94105, United States
City: San Francisco
State: California
Country: United States
Website: https://www.grandviewresearch.com/industry-analysis/regenerative-medicine-market