Social Commerce Market To Reach $6.2 Trillion By 2030 Based on Rising Average Time Spent on Social Media Platforms During Pandemic And Convenience of Buying Products Online | Grand View Research, Inc.
According to a new report published by Grand View Research, the global social commerce industry is likely to gain traction owing to the growing inclination towards ease of product discovery and checkout.
Social Commerce Industry Overview
The global social commerce market size was valued at USD 584.91 billion in 2021 and is anticipated to reach USD 6.2 trillion by 2030, projecting to grow at a compound annual growth rate (CAGR) of 30.8% during forecast period.
Increased average time spent on social media platforms during a pandemic and the convenience of buying products online has facilitated market growth. The pandemic has highlighted the importance of staying connected and has enforced us to adapt and connect in new ways. By letting the customer checkout directly through social media platforms, social commerce eliminates excessive steps and helps streamline the buying process. As a result, the market is likely to gain traction owing to the growing inclination towards ease of product discovery and checkout. Moreover, a rising number of potential buyers from different social media platforms such as Facebook, Pinterest, Snapchat, and Instagram is also expected to support the market growth.
Gather more insights about the market drivers, restrains and growth of the Global Social Commerce Market
Social commerce, the use of a social media platform to drive and/or process online purchases, has led to new forms of shopping in collaboration with virtual environments. The convergence of content sharing, shopping, payments, and messaging features has enabled the proliferation of social commerce in the past few years. Seamless access to social media networking sites coupled with a high level of impulse buying, especially amongst the millennials and Gen Z has created huge potential for several brands/sellers to increase their sales and attract new customers. Moreover, social commerce has given merchants/brands the power of merging social media and e-commerce sites, thereby providing a huge branding opportunity. This has led to enhanced social media presence and has allowed creating brand awareness to stay top-of-mind of the customers through daily engaging content.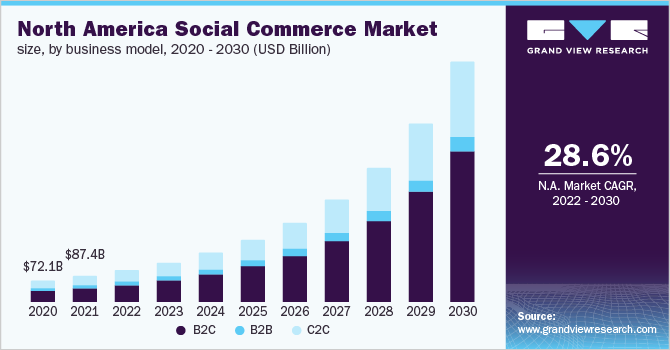 Social commerce has become a democratizing force as it has opened new avenues of opportunities for small businesses and individuals. Social buyers are more likely to buy from a small business when shopping through social commerce in comparison to that e-commerce sites. Several factors support this trend, including the fact that individuals are spending an increasing amount of time on social media platforms. Studies suggest that an average individual spends over two hours on a social media platform each day and is likely to buy from a brand that they have not encountered previously.
Consumer preferences and attitudes have changed dramatically over the past few years. A shift in consumer preference is one of the significant factors driving the social commerce market growth. Along with the innovations in mobile technology, consumers have become accustomed to immediate communication and now look forward to instant customer service. Additionally, consumers are looking for new avenues to engage with brands using the latest technology, with younger generations seen dominating the social commerce charge. As per the Global Web Index report, the usage of social commerce is comparatively high among the Millennials and Generation Z, with over 60% more prone to purchase on a social media platform when given the opportunity.
The COVID-19 pandemic compelled users to spend more time on the social media platform, which pushed retailers to increase their investments in advertisements. This, in turn, has led brands to extend their reach to new customers and varied product categories. Furthermore, pandemic-induced lockdowns and restrictions in 2020 triggered a behavior shift among in-store buyers, including non-digital communities. Users began to lean toward online shopping as social distancing became the norm. Customers became more comfortable and confident while spending time and money in a digital environment, thereby paving the way for market growth.
Despite the market being estimated to record significant growth in coming years owing to the benefits mentioned above, increasing concerns among users over the collection and potential use of personal information by social media platforms are emerging as a possible restraint for the market growth. While advances in technology bode well with the market, any misuse of customer data can lead to financial and personal losses. Social media users are apprehensive about illegal access to the data as many social media sites are not shielded against the risk of cyberattacks. Security concerns are expected to be short-term as retailers/vendors are working collectively with third-party payment platforms to offer a safer and secure payment environment to consumers. Therefore, long-term issues about data privacy are expected to be resolved in the near future.
Social Commerce Market Segmentation
Based on the Business Model Insights, the market is segmented into business to consumer (B2C), business to business (B2B) and consumer to consumer (C2C)
The B2C segment dominates with a market share of 54.4% in 2021 and is expected to grow at a significant growth rate during the forecast period. Factors such as the shift in consumer mindset and rising digitization contribute to the growing demand for the business-to-consumer (B2C) business model. Social commerce platforms allow customers to easily observe, select, and order a product while evaluating the same by checking reviews written by other users.
The C2C segment is likely to grow at a CAGR of 24.0% during the forecast period. C2C business model refers to websites that act as an intermediary between customers. This model enables sellers to be the buyers and buyers to be the sellers. Customers can interchange their roles based on their requirements.
The B2B segment is expected to witness steady growth in the coming years. Various companies and businesses generally use this model to sell their product and services to other buyer companies. The B2B model caters to niche markets too, such as pet stores or pet foods, and fulfills the particular requirements of customers. WeChat Business is one of the most recent mobile social network businesses that utilizes business friendships and relationships to maintain customer relationships.


Based on the Product Type Insights, the market is segmented into personal & beauty care, apparels, accessories, home products, health supplements, food & beverage and others
In 2021, the apparel segment led the market, accounting for a revenue share of 23.0%. The clothing and apparel business is the most significant business than any other products online as it has considerable popularity and demand on social media platforms.
During the COVID-19 pandemic, as people were shopping online, spending and exploring maximum time online and on different social commerce sites, fashion retailers discovered ways to develop new types of shopping experiences, engage influencers/creators, and connect in new ways.
The personal and beauty care segment is estimated to grow at the highest CAGR of over 30.0% during the forecast period. Shoppers choose online buying for these products as there is no need to touch such products, and they have a clear understanding of what users will get after buying. Personal and beauty care brand marketers and owners prioritize data for their customer targeting and product development.
Using social commerce beauty brands creates the scope for a rich global audience and international markets without acquiring or hiring local sellers and distributors. Sellers on the social commerce platforms are offering cashback, discounts, same-day or next-day deliveries, EMI options, click & collect options, and many more services that make easy and more lucrative online shopping than offline buying.

Based on Platform/Sales Channel Insights, the market is segmented into video commerce (live stream + prerecorded), social network-led commerce, social reselling, group buying and product review platforms
Video Commerce dominated the market with a share of 41.8% in 2021. The segment is expected to witness considerable growth, expanding at a CAGR of 32.9% in the coming years. In recent times, live stream shopping has grown immensely and has enticed viewers to buy from a live shopping event.
Live–selling as a marketing method has facilitated sales conversion rate and buyer experience. It helps enhance the time spent by the customers on the seller's social pages and easily attracts new customers. As live streaming matures throughout the Asia Pacific region and develops in Western countries, with TikTok's short-form video boom, every major player now has some iteration of this format such as YouTube Short, Snapchat Spotlight, and Instagram Reels to name a few.
Based on the Regional Insights, the market is segmented into North America, Europe, Asia Pacific, Latin America, and Middle East & Africa
The Asia Pacific accounted for a 69.5% market share in 2021 and is expected to grow steadily over the forecast period. The growth of this region is mainly accredited to the factors such as rising investments in the telecommunication infrastructure, the proliferation of the internet and smartphones, and the widespread reach of social media websites such as Facebook, Instagram, and Twitter. Moreover, the growing number of smartphones and social media users in countries like China mainly favors regional market growth.
North America emerged as the second-largest market and is expected to grow at a significant CAGR of nearly 25.0% during the forecast period. The e-commerce and social commerce landscapes in the U.S. are a lot more fragmented in comparison to developing countries, with a difference in consumer attitudes and behavior toward social media consumption, digital shopping, payments, and online privacy as well.

Browse through Grand View Research's Communications Infrastructure Industry Research Reports.
Content Delivery Network Market – The global content delivery network market size was valued at USD 15.47 billion in 2021 and is expected to expand at a compound annual growth rate (CAGR) of 23.0% from 2022 to 2030. The COVID-19 pandemic has directly affected the market as the content delivery network vendors rely on several economic factors, such as vibrant financial markets, the flow of liquidity, and capital from financial institutes, for their revenue. Despite these factors, the CDN market is expected to witness steady growth over the forecast period due to the increasing volumes of data being exchanged on the internet in line with the continuous rollout of high-speed networks.
Telecom Analytics Market – The global telecom analytics market size was valued at USD 3.6 billion in 2019 and is expected to grow at a compound annual growth rate (CAGR) of 14.5% from 2020 to 2027. Telecom analytics is a category of Business Intelligence (BI) which involves urbane BI technology solutions and services that are explicitly designed to serve the complex requirements of telecom organizations. It assists in increasing sales, decreasing operational costs, reducing fraud and customer churn, and improving risk and revenue management. Data analytics in the telecommunication industry provides more precise and actionable insights and offers value in decision making, while giving a competitive edge to the telecom operators.

Market Share Insights:
April 2021: Pinterest partnered with Shopify, Inc., an e-commerce solution provider, to expand its social commerce presence internationally. The partnership allows the former to provide a Pinterest platform in 27 countries, including the U.K., Austria, Italy, Australia, France, Brazil, Germany, Spain, and Switzerland.
September 2020: According to Global WebIndex survey, 70% of internet users in the US who regularly watched influencer-led livestreams said they were likely to buy products recommended by those influencers.
Key Companies Profile:
Companies engage in organic and inorganic growth strategies such as product/solution launch & developments, mergers & acquisitions, geographical expansion, and partnerships to stay afloat in the competitive market scenario.
Some prominent players in the global social commerce market include:
Etsy, Inc.
Fashnear Technologies Private Limited (Meesho)
Meta Platforms, Inc. (Facebook)
Pinduoduo Inc.
Pinterest, Inc.
Poshmark
Roposo
Snap, Inc.
Taobao
TikTok (Douyin)
Trell Shop
Twitter, Inc.
WeChat (Weixin)
Xiaohongshu
Yunji Sharing Technology Co., Ltd.

Order a free sample PDF of the Social Commerce Market Intelligence Study, published by Grand View Research.

About Grand View Research
Grand View Research is a full-time market research and consulting company registered in San Francisco, California. The company fully offers market reports, both customized and syndicates, based on intense data analysis. It also offers consulting services to business communities and academic institutions and helps them understand the global and business scenario to a significant extent. The company operates across multitude of domains such as Chemicals, Materials, Food and Beverages, Consumer Goods, Healthcare, and Information Technology to offer consulting services.
Web: https://www.grandviewresearch.com
Media Contact
Company Name: Grand View Research, Inc.
Contact Person: Sherry James, Corporate Sales Specialist – U.S.A.
Email: Send Email
Phone: 1888202951
Address:Grand View Research, Inc. 201 Spear Street 1100 San Francisco, CA 94105, United States
City: San Francisco
State: California
Country: United States
Website: https://www.grandviewresearch.com/industry-analysis/social-commerce-market