MSMEs are the backbone of livelihoods and economic growth
The GCPIT is an organisation based out of India and South Africa with board and council member representation across the world to implement relevant major national development strategies; promote foreign trade and bilateral investment; forge economic and technological cooperation; develop strategic partnerships with overseas trade and investment promotion counterparts; and embark on both inward and outward high-end trade and economic missions.
Mahatma Gandhi's clarion call for all conscientious humanity to unite "to create the change we wish to see in this world" resonated with the African Union's creation of "the Africa we want" among African speakers and audiences at a weekend global seminar aptly themed "Future of SMEs and Trade, a Country Perspective" which was organized by the India-headquartered Global Council for the Promotion of International Trade (GCPIT).
Er. Santosh Ganesh, the GCPIT's Global Chairperson, said: "The World MSME Day" celebration was like a constellation of ideas on enterprise development. It was a privilege for us all to be part of a star-studded event that empowered delegates with knowledge developed from experiences from across the world. This was an excellent networking platform and hence we decided to broaden its reach so that many more small and medium enterprises from across the world could benefit."
On June 26th this year, celebrated Micro, Small, and Medium Enterprises Day celebration. Small- and medium-sized enterprises (SMEs) are the lifeblood of many economies around the world, and they play a major role in developing countries.
Formal and informal Micro, Small, and Medium-sized Enterprises (MSMEs) account for over 90% of all businesses and on average account for 60-70% of total employment and 50% of GDP.
To highlight the contributions of these enterprises, the UN General Assembly designated June 27 as the Micro-, Small, and Medium-sized Enterprises Day, recognising the important role these enterprises play in sustainable development.
It has become an annual tradition that each year the GCPIT celebrates "World MSME Day" and presents awards to the best local SMEs. Held on 26 June 2021 virtually in line with the global safety protocols intended to contain the spread of the COVID-19 pandemic, the event succeeded in reaching many audiences across the world cost effectively and efficiently.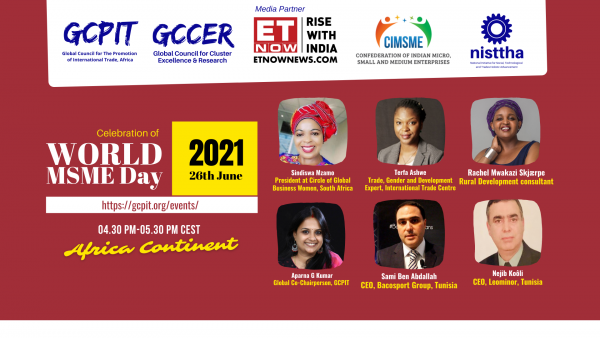 All the delegates described this auspicious event as a powerful well informed platform of Global Business from all the continents across the world. They saw it as a powerful collaboration to make MSME work with practical action plans because the challenges the sector is faced with are generally universal – be it in Europe, Asia or Africa. All over the world the key strategic objective remains the achievement of inclusive economy.
They reached consensus that the celebration of the world MSMEs Day was a great opportunity to get close up view and perspective from participating regions about some of the challenges but also opportunities that lay ahead.
African delegates posited that the MSMEs were the backbone of economies particularly in the continent. Abir Sassi, Director-General of the GCPIT in Tunisia, said: "We've resolved this platform was ideal to bring together all MSMEs in the continent to position them to benefit from the opportunities accruing from the African Continental Free Trade Agreement (AfCFTA).
Saul Molobi, the CEO of the Johannesburg-based Brandhill Africa (Pty) Ltd, explained that the AfCFTA was intended to integrate Africa into a free trade area with over 1.27 billion consumers and a combined GDP of over $3.6 trillion. "Integrating the 55 AU member states will make it the world's largest free trade area even bigger than the European Union."
Nomthandazo Mpande Bazi, Director of GCPIT in South Africa, asserted: "Our biggest asset and strength in Africa is our human capital. The United Nations estimated the world population would reach 10 billion people by 2055 – and low to middle income countries will account for 95% of this growth." Africa as the world's youngest population – with 60% of its current population being younger than 25 – will account for 57% of the envisaged world's population growth. This is estimated at over 1.4 billion people. This unparalleled population growth is largely attributed to high fertility rates accompanied by declining child mortality as a result of improved health systems.
Sindi Mzamo-Tshabalala, Founder and President of the Circle of Global Women, said matter-of-factly: "Occasions like this, allow entrepreneurs to connect, develop and evolve, for the benefit of their businesses but also their environment and communities. I look forward to participating in future events."
Ganesh concluded: "Occasions like this, allow entrepreneurs to connect, develop and evolve, for the benefit of their businesses but also their environment and communities. I look forward to participating in future events. I would like to thank every speaker and delegate for their kind support and cooperation extended to us during the celebration of *World MSME Day 2021* on 26th June 2021. It was informative, engaging and futuristic. We are proud to add all of them in our global think-tank group for future cooperation. I'm looking forward to all of them continuing this powerful journey with us."
Video Link: https://www.youtube.com/embed/61ro6HKEPf0
Media Contact
Company Name: Global Council for the Promotion of International Trade
Contact Person: Santosh G
Email: Send Email
Phone: +919480295223
Address:No 1 & 2, A1 Block, Kundalahalli Village, K. R. Puram Hobli
City: Bangalore
State: Karnataka 560037
Country: India
Website: https://gcpit.org/