Non-Muscle Invasive Bladder Cancer Pipeline, Emerging therapies and Drugs by DelveInsight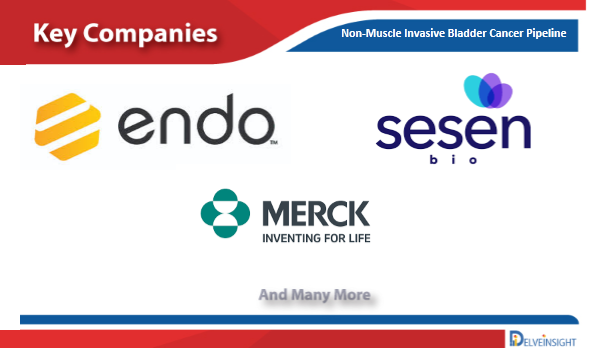 DelveInsight has launched a new report on "Non-Muscle Invasive Bladder Cancer Pipeline"
Non-muscle invasive bladder cancer (NMIBC) formerly known as superficial bladder cancer, is a common, heterogeneous disease associated with high rates of recurrence that often requires lifelong surveillance. The cancer is found in the tissue that lines the inner surface of the bladder wherein the bladder muscle is not involved.
Request for free sample copy- https://www.delveinsight.com/sample-request/non-muscle-invasive-bladder-cancer-pipeline-insight
Non-Muscle Invasive Bladder Cancer Pipeline analysis across different stages of development (Phase I, II, and III), different emerging trends and comparative analysis of pipeline products with detailed clinical profiles, key competitors, launch date along with product development activities
Non-Muscle Invasive Bladder Cancer Pipeline
The high-grade NMIBC pipeline possesses potential drugs in mid and late stage developments to be launched in the near future. The major key players include Viventia Bio/Sesen Bio (Vicinium), FKD Therapies Oy/Ferring Pharmaceuticals (Adstiladrin), CG Oncology (CG0070), ImmunityBio/Altor Biosciences (N-803 (ALT-803)), Theralase (TLD-1433), Merck (Keytruda) and others that hold the potential to create a significant positive shift in NMIBC in the market size.
Marketed drugs included in the report
Keytruda (pembrolizumab): Merck
Valstar (valrubicin): Endo Pharmaceuticals
Emerging drugs included in the report
Vicinium: Sesen Bio
Adstiladrin (nadofaragene firadenovec/Syn3): FKD Therapies Oy/ Ferring Pharmaceuticals
Tecentriq (atezolizumab): Hoffmann-La Roche
Sasanlimab (PF-06801591) + BCG: Pfizer
Apaziquone: Spectrum Pharmaceuticals
Opdivo (nivolumab): Bristol-Myers Squibb
Imfinzi (durvalumab): AstraZeneca
VesiGel (UGN-102/mitomycin gel): UroGen Pharma
And many others
Non-Muscle Invasive Bladder Cancer Emerging Therapy
Keytruda is developed by Merck and marketed in the United States which is a humanized monoclonal antibody that binds to the programmed cell death-1 (PD-1) receptor and blocks its interaction with PD-L1 and PD-L2, releasing PD-1 pathway-mediated inhibition of the immune response, including anti-tumor immune response. The drug is also in trial for Europe and Japan.
Non-Muscle Invasive Bladder Cancer Emerging Therapy Assessment
CG Oncology is developing CG0070 which has completed phase II clinical developmental trial and is planning to initiate a phase III trial for the patients with NMIBC. CG0070, a selectively replicative oncolytic immunotherapy based on a modified adenovirus type 5 backbone that contains a cancer-selective promoter and a GM-CSF transgene, destroys bladder tumor cells through their defective Rb pathway. CG0070 was designed to work in two complementary ways. First, it replicates inside the tumor's cells with dysfunctional Rb pathways, causing tumor cell lysis and immunogenic cell death. Then, the rupture of the cancer cells can release tumor-derived antigens, along with GM-CSF, which can stimulate a systemic antitumor immune response that involves the body's white blood cells.
Non-Muscle Invasive Bladder Cancer Companies
Merck
Endo Pharmaceuticals
Sesen Bio
Ferring Pharmaceuticals
And many others
Non-Muscle Invasive Bladder Cancer Symptoms
Some people may have symptoms that suggest they have bladder cancer. Others may feel nothing at all. Some symptoms should never be ignored. Some of the common symptoms are:
Hematuria (blood in the urine) – the most common symptom, often without pain
Frequent and urgent urination
Pain when urine passes
Pain in lower abdomen
Back pain
Non-Muscle Invasive Bladder Cancer Report Highlights
The companies and academics are working to assess challenges and seek opportunities that could influence Non-muscle invasive bladder cancer R&D. The therapies under development are focused on novel approaches to treat/improve Non-muscle invasive bladder cancer.
In August 2018, Sesen Bio announced that the U.S. Food and Drug Administration (FDA) has granted Fast Track designation to Vicinium for the treatment of BCG-unresponsive high-grade non-muscle invasive bladder cancer (NMIBC).
The FDA granted Instiladrin, Breakthrough Therapy designation and its Biologics License Application (BLA) has been accepted for filing and granted Priority Review.
In September 2019, Anchiano Therapeutics reported that it had entered into an exclusive worldwide collaboration and option to license agreement with ADT Pharmaceuticals to develop novel small-molecule inhibitors of RAS and PDE10/β-catenin. This collaboration reflects Anchiano's ongoing strategy to grow a pipeline beyond its pivotal-stage asset, inodiftagene vixteplasmid, with programs that have the potential to address significant clinical needs, while leveraging Anchiano's expertise in small-molecule oncology development.
LiPax Platform is a proprietary proliposomal intracavitary paclitaxel drug delivery platform designed to enhance the therapeutic index of proven cancer drugs, which results in more effective treatments for intracavitary cancers. LIPAC's lead drug candidate, LiPax, is a locally delivered formulation of the well-established chemotherapy drug, paclitaxel. It is in Phase 1/2a clinical trial for non-muscle invasive bladder cancer (NMIBC) and has demonstrated impressive initial clinical activity while being very well tolerated. LiPax is also in preclinical development for upper tract urothelial carcinoma (UTUC), ovarian cancer, intraperitoneal carcinoma, and mesothelioma/malignant pleural effusion
Request for free sample copy- https://www.delveinsight.com/sample-request/non-muscle-invasive-bladder-cancer-pipeline-insight
Table of content
Introduction
Executive Summary
Non-muscle invasive bladder cancer: Overview
Pipeline Therapeutics
Therapeutic Assessment
Non-muscle invasive bladder cancer – DelveInsight's Analytical Perspective
In-depth Commercial Assessment
Non-muscle invasive bladder cancer Collaboration Deals
Late Stage Products
Vicinium : Sesen Bio
APL-1202: Asieris Pharmaceuticals
Mid Stage Products
UGN-102: UroGen Pharma
Balversa: Janssen Pharmaceuticals
Early Stage Products
UGN-201: UroGen Pharma
E7766: H3 Biomedicine
Pre-clinical and Discovery Stage Products
ATX 101: APIM Therapeutics
Inactive Products
Non Muscle Invasive Bladder Cancer Key Companies
Non Muscle Invasive Bladder Cancer Key Products
Non Muscle Invasive Bladder Cancer- Unmet Needs
Non Muscle Invasive Bladder Cancer- Market Drivers and Barriers
Non Muscle Invasive Bladder Cancer- Future Perspectives and Conclusion
Non Muscle Invasive Bladder Cancer Analyst Views
Non Muscle Invasive Bladder Cancer Key Companies
Appendix
Related Reports
Media Contact
Company Name: DelveInsight Business Research LLP
Contact Person: Yash Bhardwaj
Email: Send Email
Phone: +919650213330
Address:304 S. Jones Blvd #2432
City: Las Vegas
State: NV
Country: United States
Website: https://www.delveinsight.com/